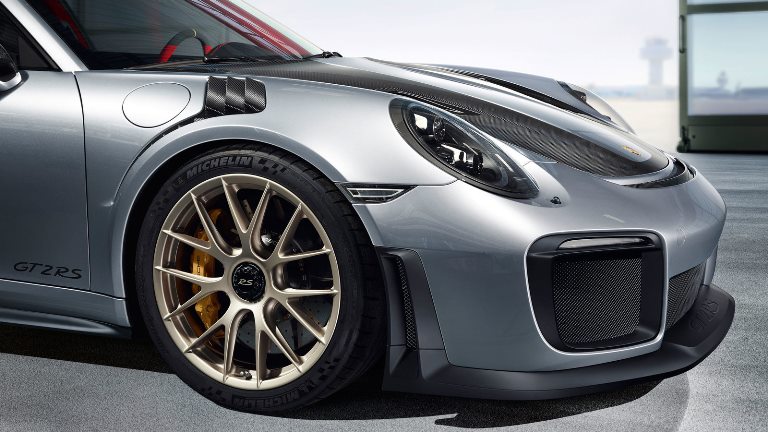 When it comes to picking out 2018 Porsche 911 for sale, you have a lot of different variations to choose between. Whether you're looking at a Porsche 911 Carrera, Carrera 4, GTS, or GT3, one thing is sure, there are few other vehicles on the road that can match the luxury and power of this Porsche coupe.
It seems that things are about to heat up yet again when it comes to this top-of-the-line vehicle. New updates to the upcoming 2019 Porsche 911 GT3 RS, which is going on showcase at the Geneva Motor Show in March, will make this particular Porsche 911 model the most powerful naturally aspirated model in the family. It will come equipped with a 4.0-liter flat-six engine that puts out 520 horsepower and 346 lb-ft of torque. These improvements give it 20 more horsepower than before and seven more lb-ft of torque over the previous model as well as getting the car to 60 mph in only three seconds.
Other improvements involve the chassis, which once again has rear-axle steering, new helper springs on the front axle, and active dampers. All this means that the new model will be faster and and more agile than ever before.
While the prospect of track-level speeds and acceleration is exciting, the 2019 Porsche 911 GT3 RS isn't for everyone. The interior is very minimal and consists mostly of the two racing bucket seats which include carbon fiber.
For most Porsche lovers here in Columbus, OH, models like the Porsche 911 Carrera 4 or Porsche 911 S are more than enough to satisfy your thirst for luxury and power. But it's great to know that the automaker is focused on making each model unique and working hard to improve on what's already great about these vehicles. Which makes us here at Byers Porsche excited to see what's in store for these other upcoming 2019 Porsche 911 models.
For all your current Porsche model needs, head on down to our Columbus, OH Porsche dealership today.