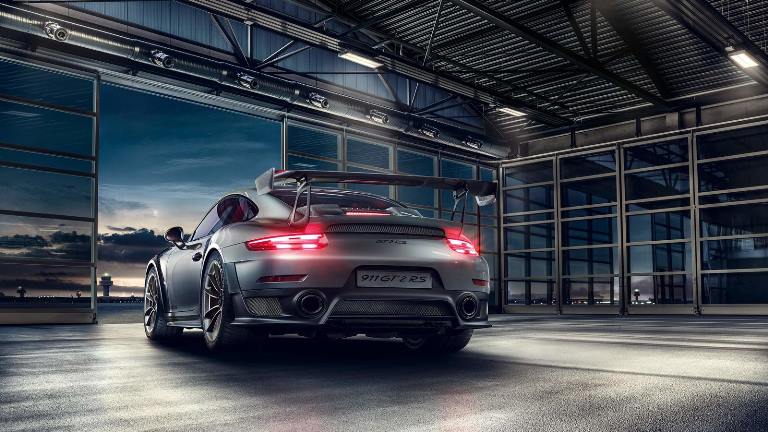 The 2018 Porsche 911 is the epitome of the sports luxury car. While the base 2018 Porsche 911 Carrera is more than enough car for most, there are those of us who crave even more out of our precisely tuned sports car. That's where the 2018 Porsche 911 GT2 RS comes in.
The 2018 Porsche 911 GT2 RS is one of those rare cars that so well melds tradition, something we love here at Byers Porsche, and new technology. And that's another big win for the automaker as they've often found that thin line between new tech and sticking to the heritage that made the vehicle such an icon in the first place.
Now, this isn't your average Porsche 911, which is saying something as there's nothing average about any new Porsche model for sale. But this particular model isn't for the faint of heart. It boasts a brawny twin-turbo 3.8-liter flat-six engine that puts out 700 horsepower and 553 lb-ft of torque. It features a water injection system for additional charge-cooling and a lightweight titanium exhaust system.
What does that get you when driving? Well, combine the engine with a customized version of the Porsche seven-speed PDK dual-clutch automatic transmission and a weight of only 3,241 pounds on a full tank and you've got 0-60 mph in roughly 2.7 seconds and a top speed of 211 mph. The automaker also says that the car delivers an "emotional sound without precedent." That's something that true Porsche model buffs who miss the old engines can really appreciate.
The look of the car is quite striking. It follows the traditional styling of the 2018 Porsche 911 but includes front fender vents, a large, three-part grille, and a massive rear spoiler just to name a few enhancements.
Inside, the vehicle is largely bare bones, there's no rear seat. The two front seats feature carbon fiber as does most of the rest of the interior. If it feels like a race car that's because it is. While the 2018 Porsche 911 GT2 RS isn't going to be for everyone, it's definitely another fun take on what the car is capable of and purists who are looking to up their game will find plenty to love.